South Hill owns vineyards located in the Columbia Gorge, across from Hood River, Oregon, near the top of Underwood Mountain.
South Hill Underwood vineyards consist of three blocks. The home block is 80 acres with 28 acres of older and newer vines. Elevations at the top of this block are at 1925 feet.
Another smaller 16-acre block is located down Scoggins Road with 14 acres of newer vines and an elevation of 1550 feet at the top.
Our newest 80-acre purchase is from Underwood Mountain Vineyards and consists of 10 acres of older vines located at 1200 feet elevation.
We have Chardonnay, Sauvignon Blanc, Gamay Noir, Pinot Noir, Riesling, Pinot Gris, Orange Muscat, and Pinot Meunier.
At the higher elevations, only earlier ripening varieties will mature properly.
The deep volcanic loam composition of Underwood Mountain soils provides the grapes with depth and concentration of flavors not found on lighter soils. These soils also retain moisture and it allows us to grow the grapes without supplemental irrigation in most years. Being of volcanic origins the soils are deep but not extremely fertile. This unique situation of high elevation and a south exposure gives us warm days and cool nights retaining the acids in the grapes.
As in in the New Zealand vineyards, hillsides can be difficult to farm, but are unique. One side of a hill may work better for on variety or clone than another. Much of this is due to sunlight, wind and the amount of topsoil. These differences are so complex that the grapes are not the same in composition year to year…which can make it quite interesting.  Deer and Elk are a problem and all of the vineyards must have fencing.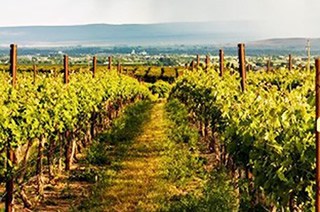 We purchase other white and red varietals that do best in warmer climates from Eastern Washington Rattlesnake Hill's located in the Yakima Valley.
Vineyards such as Two Mountain and Angiolina Vineyards provide us with excellent fruit.